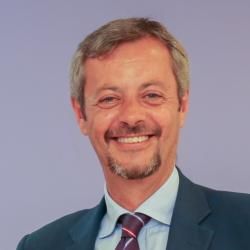 Roberto Daniele
Vice Chairman/Managing Director
,
ENI companies in Nigeria (NAOC, NAE & AENR)
Roberto Daniele is the Vice Chairman/Managing Director of NAOC, NAE and AENR, Eni's companies in Nigeria, since September 2020.
A Geo-computer Engineer with 26 years of experience in the Oil and Gas industry, Mr. Daniele began his career in Eni in 1995, at Agip's Reservoir and Petroleum Department. In 1999, he served as a Reservoir Engineer for Nigerian Agip Oil Co., Port Harcourt. He then served in the Petroleum, Petrochemical and Power Production and Environment department in Agip Congo.
Mr. Daniele began his Managerial duties as the Reservoir Division Deputy General Manager in Eni Exploration & Production Division, Cairo, Egypt in 2003. His role in senior management progressed in 2009 as the Technical Director for Eni E&P Division.

In 2010, he was the General Director for Eni Energhia in Moscow, Russia. In 2013 he became the Operator's Management Committee Executive Director – for Mellitah Oil & Gas in Tripoli, Libya. In 2015 he served as General Manager for Cardon IV, Venezuela. Prior to his appointment in Nigeria, he served as Managing Director for Eni Ghana.