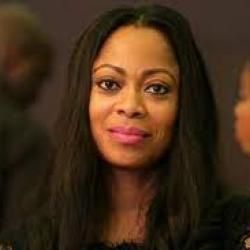 Funmi Ogbue
President
,
Women in Energy Network (WIEN)
Funmi Ogbue holds an MSc in organisational change and development from the University of Manchester, and a BSc in sociology from the University of Lagos.
As founder and principal consultant of Jake Riley, Funmi has taken what began as a small HR and change management firm and turned it into Nigeria's leading organizational support company. Offices in London, Abuja and Lagos serve clientele-delivering services, which now include human resources, change management technology and process improvement.
Funmi has led Jake Riley's contribution to a number of Nigerian government departments, helping deliver the government's transformation agenda in the process. She successfully led HR restructuring for the NPHCDA (Nigerian Primary Health Care Development Agency) bringing new purpose and motivation to the organization.
Funmi was pivotal in the successful launch of the Midwives Services Scheme. She has been editor-inchief of Jetlife, the magazine of the Federal Ministry of Aviation, and Fascinating Nigeria, the magazine of the Federal Department of Culture and Tourism charged with improving the international profile of Nigeria as a tourist destination.
Funmi's roles have included Managing Partner of Ancorapoint, Human Resources Director at British American Tobacco, and senior HR positions in multi-national companies such as Shell, Canadian Occidental Petroleum, and Mercer Consulting in the UK.In 2012 Funmi was appointed Head of human resources for the newly privatised Ibadan Electricity Distribution Company Limited (IBEDC), and in 2013 she established Jake Riley Limited to provide Nigerian organizations with skills training and attributes they need to succeed in a global marketplace.
Funmi is passionate about Nigeria, its people, and about implementing the changes necessary to drive the country forward and maximise its potential. She is a vocal supporter of championing of women in leadership roles – a cause naturally close to her heart.
Funmi is a focused businesswoman, today ensuring she works for the people, businesses and organisations in which she believes. Whether as an engineer of organizational change within the public sector organisations, as business woman in other companies she is involved with, or as a keen advocate of youth opportunity, Funmi Ogbue remains a driving force in bringing the changes that are shaping modern Nigeria to a world-wide audience.