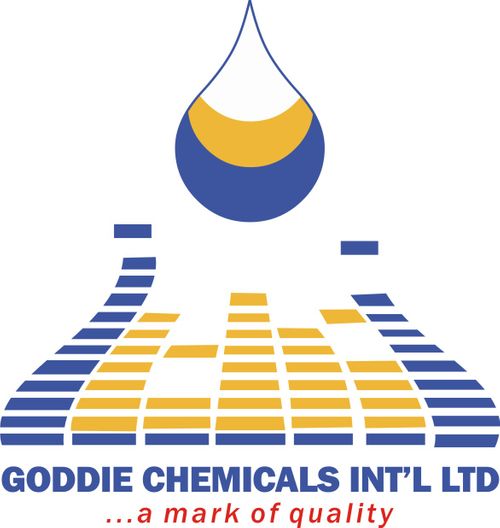 Goddie Chemicals International Limited
Stand: A20
| Chemical and Fertiliser Production
| Compressors
| Downstream/PetChem/Chemicals
| Drilling and Completions
| Engineering Sub-Contracting
| Exploration and Production
| Fertilisers and Chemicals
| Gas and Power Transmission
| Health, Safety, Security and Environment
| Heat Exchanges
| Heavy Haulage
| HSSE Equipment and Services
| HSSE Management and Consulting
| Human Resources
| Hydrocarbons Refining
| Petrochemicals
| Produced Water and Wastewater Management
| Wellbore and Downhole
Goddie Chemicals International Limited is a leading premium chemical solutions and specialized engineering services expert, positioned to reliably serve as a one-stop shop for all your chemical needs, as well as services ranging from production chemistry to commodity chemicals such as caustic soda, soda ash, various lubricants, Rig wash, degreaser, surfactant, sodium bicarbonate, biocide, corrosion inhibitor, rust removal, hydrochloric acid (HCl), Oxygen scavenger, Hydrogen sulphide scavenger (H2S), demulsifier, water clarifier, corrosion inhibitor, calcium bromide, xylene to mention but a few.

We also deal with various equipment for rentals and compressors units,AGO/lubricant supply,procurement of oil tools,constructions,manpower support,marine equipment leasing,commissioning support,brine filtration equipment and services,solid control equipment and services,offshore support and engineering services and installation.

We possess a service quality index that has enabled us several years of relationship with our clients such as Addax Petroleum, Total E&P, Shell Nigeria Ltd, Seplat etc…. Our technical partners include DESHI CHEMICALS, DENAIR ENERGY etc.